Well, here goes nothing!
My favourite brother is getting married in September. I've offered to make the flowergirl dresses for my daughter and my niece. The bride has chosen a style for the girls which is both easy to sew and cute.
Here's a picture of what she wants: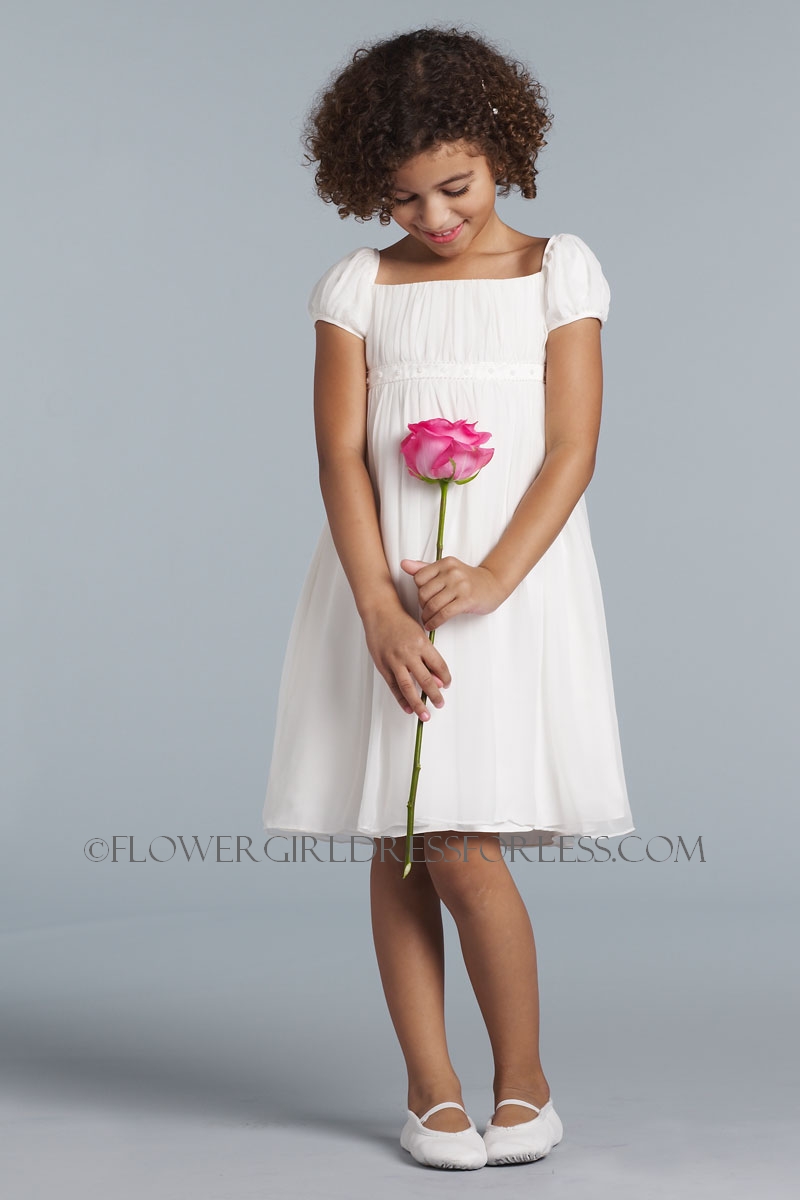 Upon close inspection, the original dress is lined and has an invisible zip - no elastic anywhere. Fortunately, my soon-to-be-official sister-in-law is very laid back and easy-going. She's not fussed if I make some changes.
I'm using, as always, an Ottobre pattern (02-2005-11) as the base for this dress. It's a peasant style blouse with shirring at the empire line to give it some shape.
I'd already raised the armholes a little to stop any modesty issues when I used this pattern for Erin last year for her Red Riding Hood costume. To make it more closely resemble the dress, I've lengthed the skirt portion by 8" and cut the front and back apart at the empire line. I'm going to add in another 6" evenly across the front and the back to emulate the fullness of the original dress. I think I may need to add some fullness and length to the sleeves as well.
It will be sewn from white chiffon and some kind of white shiny fabric. I think I'll bind the neckline and sleeve edges with a satin bias binding and insert some skinny elastic through the bias. I'll have to find some kind of sparkly stretchy trim to be sewn over the empire seam, otherwise, I may have to insert a zip in the side seam. I'd prefer not to do a zip, so I'm guessing a trip to the local dance supplier is in order.
First things first, though. I have to test out the pattern. I'm making a test dress for my daughter, to be fitted when she comes home from her visit to her grandparents. I also have to make a test dress for my niece to be fitted when she comes down to visit next week. That one is the most important because I don't have easy access to her for a lot of fittings. It shouldn't be too hard, though, it's a pretty simple dress.
Test Dress #1: Tropical Sundress for DD
I made this one up in a gorgeous (what I think is a) rayon/cotton blend that my daughter picked out when we visited Vanuatu a few years ago. Originally, I think she just wanted a little shirred sundress, but this has turned out much cuter.
Obviously, the actual flower girl dress will be made from two layers of fabric and will have a trim around the waistline, but this is a nice little dress for summer.
I'm not too sure about the neckline. It's rounded, where the inspiration dress is straight across. Now, I'm not going to get that straight across look with an elastic casing around the neckline. I hope the bride isn't too fussed. I'll find out tomorrow if it's not going to work.
I also have to lengthen the dress for the 'real' one. Another 3 - 4" should do it, I think.
And one more close up shot. I LOVE this colour on my daughter!