Seeing as though I've got a sewing list a mile long for this summer, I thought I'd best get moving on it, starting with the easier garments first. Obviously, that involves sewing for my daughter as there is little fitting involved.
First up, she desperately needs some swimsuits. I'd purchased
this downloadable pattern
a little while ago on Etsy, and we were both keen to test it out. The fabric I used for the test garment (I've yet to get pictures on DD) was part of a bulk lycra buy-up several years ago from Make It Fabrics in Brisbane. DD informed me that she didn't like it as I was cutting it out. Luckily that tune changed because I'm pretty happy with the end result.
I used the ruffler foot to gather up all that green lycra. I set it to maximum rufflage for a super frilly look. The skirt ruffle was just over 2 widths of fabric. It gives the skirt a nice weight. I'd like to try a suit with a less frilly frill.
Here you can see the little pants under the skirt. Cute!
The pattern comes with more than 4 different variations.There are two different size ranges. We ended up with the 6 - 16 sizes. DD chose the suit which included an overskirt. She did check the pattern photos a few times to make sure I hadn't sewn it wrong, so luckily the final result looks pretty similar to the front of the pattern!
The writer of the pattern also has a
blog
where she has shown lots of different versions of this pattern.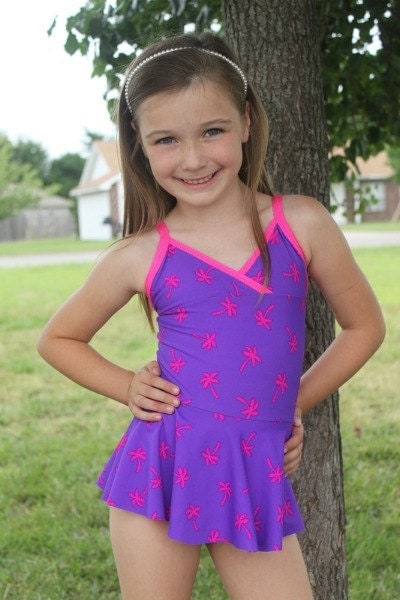 One 4 All Stylish Swimsuit (Link to Etsy store)
As far as the pattern goes, it was pretty good, but there was some funky drafting, particularly with the skirt pieces not joining up properly in the pattern stage. I'd say that was more to do with digitising the pattern, rather than poor drafting.
The instructions were fairly good, but there were a few spots where I was glad I had some swimsuit sewing experience already. I think the pattern needed a little more testing/proofreading, but all-in-all, it's a gateway to a really cute swimsuit. DD has already picked out the fabrics for her next two, so that must mean it's a winner.
The fit was good. I have lengthened the body by 1/2" for the next pair.
Look, I've even managed to get photos on DD, and an action shot!
They performed well during this afternoon's swim and DD has already chosen the fabric for another 2 swimsuits. This time, though, she doesn't want the ruffles! Looks like I'll have to put my ruffler foot away again. :-)
I've also finished a 2-piece Kwik Sew set, but it's too big, so has been put away for next year. I've got to trace out the smaller pattern tomorrow and have another go. Stay tuned for more swimsuit action!